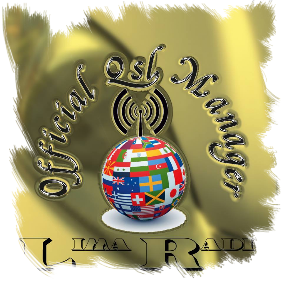 OFFICIALS QSL MANAGER
1LR001 Dino (Info: Dino ARCORACI – Casella Postale 2 – 20871 VIMERCATE (MB)
1LR/MC21
05LR149 Oscar
24LR001 Victor
24LR002 George
24LR101 Nica,
24LR/DX By Nica
91LR191 Bruno,
115LR001 Hamad
151LR001 Ameer
151LR005 Alì
151LR/DX Irak,
151LR/AD By 151LR001 Ameer
072LR/DX By Manuel
58LR/0 By 58LR001 Azlan
069LR/DX By Mauricio
028LR/DX By Giovanni
096LR001 Christian
113LR107 Elias
113LR447 Mohamed
127LR001 Joseph
123LR001 Lauren
193LR001 Abedin
195LR002 Leslie
195LR/DX Leslie
195LR/NA-024 by 195LR002 Leslie
283LR/DX Joseph
165LR/EU-024 By Gianpy (Sant'Antioco Island)
165LR/DP By 165LR1000 Gianpy
033LR101 Larry
033LR/0 Larry
094LR/0 By Sal
150LR/0 By Sal
165LR/EU-165 By Gianpy (Saint Peter Island)
700LR/COTA (NIZWA FORT) By 102LR001 Sal
122LR/DX By 122LR002 Michael
348LR/0 & 348LR001 Franklin
348LR002 Randolf
048LR/0 By 102LR001 Sal
021LR101 Thomas
040LR/0 By 1LR001 Dino, 1LR025 Gianpy & 1LR069 Sergio
219LR/0 By 219LR001 Joseph
073LR010 Ramon
050LR005 Vitaly
036LR/DX By Dino (Year 2017)
193LR001 Abedin
168LR/0 By Yusuf
053LR/DX By Geovanni, From 30-10-2022
165LR/DX By 1LR001 Dino from 2 to 11 June 1023
1LR160 Antonio (Info Via: 1lr160@libero.it)
001LR007 Alessandro
010LR010 Roberto
010LR130 Guillermo
010LR510 Marcos
010LR131 David
091LR191 Bruno
102LR001 Sal
102LR/ID By Sal (Start 14-2-2016, finish 1-3-2016)
116LR101 Zeki
116LR102 Erhan
234LRØ Alessandro
234LR001 Alessandro
234LR/DX Alessandro
004LR/BA-007 (I.W.I. Isla de Rauch, by 4LR001 Diego)
151LR007 Alessandro
311LR/DX By 311LR007 Zbignev
053LR/DX By Geovanni
47LR/EU-125 ROMO Island, by Tom
13LR/EU-0057 RUEGEN Island By Tom & other LR Friends
328LR/EU-016 BRAC Island by 13LR004, 009, 021, 093, 308
56LR001 Mike (Info: Suonpäänkulmantie,141 - 31900 Punkalaidun – Finland)
021LR/AW (Artic Wolf) by 56LR367
78LR/DX By Pieter – Zambia
195LR001 Nigel
195LR124 David
195LR211 Marlon
195LR801 Joseph
56LR011 Stevo
56LR014 Gordon
56LR/EU-173 By 56LR001 Mike (A few Islands from Pori Province)
56LR/SF-001 By 56LR001 (Retunsalaari Island – I.W.I.)
56LR/EF-002 By 56LR009 & 56LR002 (Puukonsaari Island – I.W.I.)
56LR/JS-025 By 56LR566 Jerri (SOTA Activation)
56LR/JS-028 (Puntarhonganmäki) By 56LR566 Jerri (SOTA Activation)
56LR/JS-067 By 56LR420 Patrick (SOTA Activation)
56LR/EU-096/KS (Kaurissalo Isl.) By 56LR124 Timo
56LR(EU-096/KT (Kustavi Island) By 56LR124 Timo
56LR/FINNISH REGION TOUR (Various Regions)
56LR/JS034 Himos summit by mr.Jerri 56LR566
56LR/EF-009 Otasalo island iwi, By Mikko 56LR009
56LR367 GERT
56LR006 JARKKO (info: JARKKO – Mäntytie, 6 – 72300 Vesanto – North Savonia)
56LR/IWI Activations - 56LR006 Jarkko & 56LR200 Jani
56LR/EU-101 (Ohtakari Island)
26LR009 Mick (MICKAEL Kobarenko) -
5, Dose avenue - Scunthorpe - North lincolnshire dn15 8js - England
LR/Santa Claus 2018 by many LR Members
LR/EMMA by 26LR002 Nigel, 26LR009 Mick, 26LR600 Terry, 56LR001Mike,56LR009 Mikko, 106LR001 Mario, 1LR001 Dino, 1LR059 Rosario, 1LR164 Paolo.
3 MULTI IOTA– SA-026 Florianopolis – Santa Catarina Isl. (Only for the LR Requests)
3LR000 Club Station by 3LR117 Fernando
5LR001 Alejandro
5LR003 Willmer
5LR010 Alberto
5LR011 Ivan
5LR020 Juan Francisco
5LR066 Esteban
5LR101 Aurelis
5LR123 Asrubal
5LR138 Carlos
5LR145 Rafael
5LR175 William
5LR223 Yojana
5LR624 Hector
5LR712 LUIS
5LR767 Josè Raul
5LR880 Rafael
6/4LR101 Martin
11LR101 Nelson
13/328LR021 Reiner & 13LR082 Rudi
26LR/CB (Memory of Cilla Black)
26LR/EU-120 Holy Island, by 26LR002 Nigel & 26LR009 Mick
026LR000 – LR Team, for to help the Valley Cids
26LR/EU-005 Walney Isl. By 26LR002 Nigel & 26LR009 Mick
26LR/EU-123 Bute Isl. By Scottish Team
26LR/EU-123 Arran Isl. By Scottish Team
26LRGW (100 Anniversary of Great War) by Many LR Division
30/108LR/BD18 By 108LR006 Stuat – Activity from Benidorm City
031LR000 CLUB STATION By Rui 31LR001 (From time to time)
048LR001 Nasser
048LR005 Fahad
048LR006 Hamoud
048LR007 Abdulazis
048LR008 Ahmed
048LR030 Ayesh
048LR048 Ayman
048LR101 Az
048LR111 Mohammed
048LR115 Yaser
048LR123 LATIF
048LR222 Atallah
048LR330 Alì
048LR348 Abullah
048LR502 Nasser
048LR888 Azizi
054LR000 CLUB STATION By Chris 54LR002
56LR/ID By 8 different LR Operators
67MULTI/DX (Only for the LR qsl Requests)
91LR001 Hasby
91LR007 Budiono (Tx-Rx: Java Island)
91LR008 Davidcy (Tx-Rx: Sumatra Isl.)
91LR009 Jan (Tx-Rx: Java Island)
91LR010 Ketumbar (Tx-Rx: Java Island)
91LR017 Sidiq (Tx-Rx: Java Island)
91LR020 Ruri (Tx-Rx: Java Island)
91LR021 Ray
91LR026 Yanto (Tx-Rx: Java Island)
91LR027 Sanjaya (Tx-Rx: Bali Island)
91LR028 Kelik (Tx-Rx: Java Island)
91LR029 Imron (Tx-Rx: Java Island)
91LR040 Hendri (Tx-Rx: Java Island)
91LR041 Hermawan (tX-Rx: Java Island)
91LR042 Bimo
91LR043 Sugeng
91LR047 Puryanto (Tx-Rx: Java Island)
91LR055 Satyo (Tx-Rx: Java Island)
91LR067 Elly
91LR068 Johathan Lie (Tx-Rx: Java Island)
91LR070 Danny
91LR075 Yudi (Tx-Rx: Batam Island)
91LR077 Wibowo
91LR078 Edy (tX-Rx: Java Island)
91LR100 Eko (Tx-Rx: Java Island)
91LR111 Arief
91LR113 Edi
91LR120 Bejos
91LR123 Edi
91LR125 Iwan
91LR126 Panjoel
91LR150 Obin
91LR151 Purna
91LR175 Radja
91LR187 Jozef
91LR197 Dedy
91LR212 Ivan
91LR215 Budi
91LR222 Budi
91LR234 Iwan
91LR301 Fatich Sapta
91LR388 Ferdian (Tx-Rx: Java Isl.)
91LR402 Gunadi
91LR343 Dony
91LR467 Anto
91LR470 Reza
91LR484 Aris
91LR486 Agus
91LR487 Nugroho
91LR512 Josep (Tx-Rx: Java Island)
91LR526 Joko
91LR567 Adhek
91LR575 Erfan
91LR666 Bambang
91LR901 Boim (Tx-Rx: Java Island)
91LR967 Mas Yok
91LR973 Ferry
91LR986 Eko
91LR888 Djojo
91LR999 Comet
108LR011 Donie – Tx-Rx: Lewis Isl. – EU-010
108LR/EU-123 Bute Isl. By 108LR001 Arthur, 108LR002 Ian & 108LR666 Stuart.
108LR/EU-123 Arran Isl. By 108LR002 Ian, 108LR029 Andy & 108LR666 Stuart.
109LR400 Frenki
111LR111 Hail
112LR/DX By Mohamad
112LR/ID By Mohamad
112LR101 Tony
113LR006 Darry
113LR010 Nazrul
113LR011 Khairul
113LR013 Rosidi
113LR113 Cupak
114LR010 Ali
120LR/0 By Devon
120LR010 Devon
122LR051 Patrick
123LR002 Bob
123LR/DX By Bob
147LR101 Guicha
158LR001 Karl
158LR158 Chales
188LR001 Albert
233LR010 Silviu
317LR417 Valentin
327/1LR001 Dino
328/1LR001 Dino
328/13LR021 Rainer
328LR/DX By Rainer
347LR102 Arnel
017LR005 Aaron
LR/Net Control
1LR025 GIANPY (Mail to: gianpyfadda@libero.it
1LR/EMR003 I.W.I. Isola Serafini
1LR/WM2019 Multi operator
012LR000 Club Station
36/1LR025 San Marino Rep
75LR/EU175 Ilha do Pico by 75LR001 Olimpio
49LR010 Jose
53LR/DX by 53LR001 Geovanni, till to 30-9-2022
062LR101 Ricky
173LR001 Laurent
173LR002 David
173LR010 Yvon
165LR/EU024 Sant'antioco Isl
165LR/EU165 San Pietro Isl
165LR/SAR018 Lighthouse Capo Sandalo
167LR/EU-013 By Viny
169LR/EU-114 By Rich - Guersney Isl
56LR/RF70 – By Multi LR Members
196LR/DX By 196LR005 Gerges
091LR005 Fony
079LR/DX By Jay
153LR/DX By Nui
177LR/DX By Mohan
177LR/DX By Ranjith – From 30-4 to 30-5-2023
348LR063 John
348LR067 Francisco
34LR/Multi – By 1LR025 Gianpy & 34LR057 Angel
56LR007 PASI
56LR/EU-097 Emasalo Island (Mail to: 56LR007@gmail.com)
56LR/EU-173 Lampaluoto Island – the 31-7-2022
FINNISH REGION TOUR 2023
Start 1.12.2022.
End 31.12.2023.
Manager 56LR007 Pasi HF Makela
paypal 56lr007@gmail.com 3 euros.
Post:
Pasi Mäkelä
Vihniöntie 6
14700 HAUHO
FINLAND
One duble card. We send all cards 1/24. If want before, send message to me